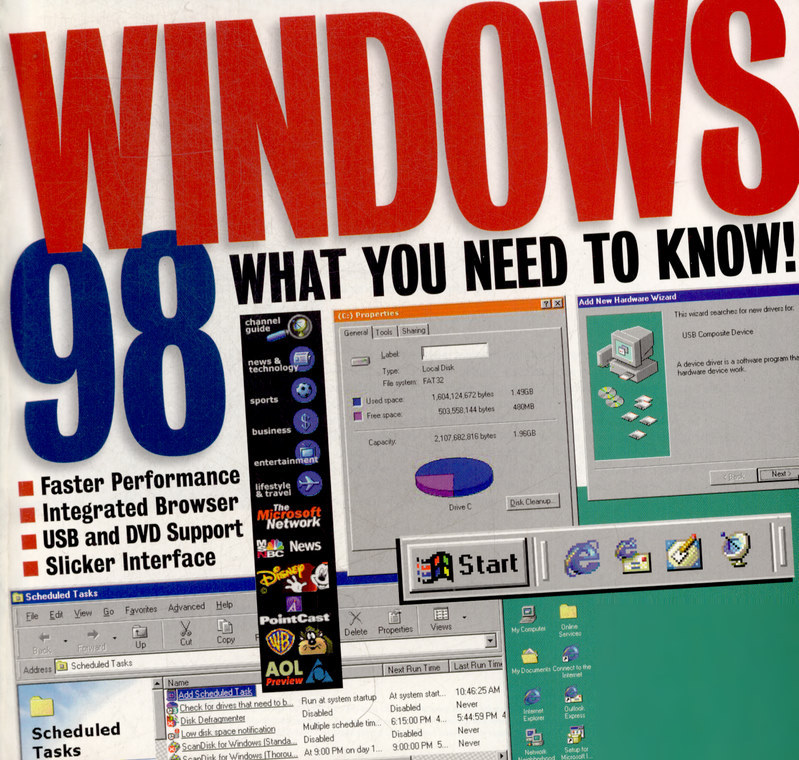 PC Magazine's June 1998 issue featured a cover story on the release of Microsoft's Windows 98 operating system. Windows 98 was the successor to Windows 95, which had been released three years earlier and had quickly become the most popular operating system in the world.
The cover of the magazine featured a large image of the Windows 98 startup screen, along with the headline "Windows 98: The Inside Story". The accompanying article provided an in-depth review of the new operating system, highlighting its new features and improvements over its predecessor.
One of the biggest selling points of Windows 98 was its improved stability and performance. The operating system featured a number of enhancements to the Windows kernel that made it less prone to crashes and more efficient at managing system resources. Windows 98 also introduced a number of new features, including support for USB devices, improved support for plug-and-play hardware, and a new taskbar that made it easier to switch between open applications.
PC Magazine's review of Windows 98 was largely positive, praising the operating system for its improved stability, new features, and overall performance. However, the review also noted that the new features in Windows 98 weren't always easy to find or use, and that the operating system still had its fair share of bugs and compatibility issues.
Despite these criticisms, Windows 98 was a major success for Microsoft, with millions of copies sold in its first few months on the market. The operating system would remain popular for several years, with many users continuing to use it even after the release of newer versions of Windows.
Looking back on the release of Windows 98 today, it's clear that the operating system played an important role in the evolution of personal computing. Its improved stability, support for new hardware, and user-friendly features helped to make it a favorite among users around the world, and it paved the way for future versions of Windows that would continue to build on its successes.